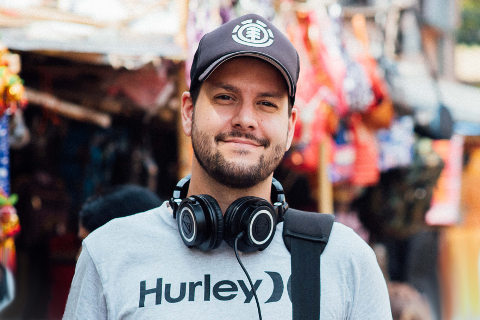 I love sound.
I love the way it can tell a story. The way it can evoke the deepest of emotions, conjure the fondest of memories, and transport the listener through a world of imagination.
I'm a freelance sound recordist, sound designer, and sound mixer based in Sydney, Australia. With over 15 years' experience specialising in sound for picture, I endeavour to help create immersive soundtracks that support and drive films; that subconsciously captivate and thrill the audience. I believe that a great soundtrack starts at the first word penned on a script and carries right through the entire filmmaking process to the final tweak of a fader in the final mix. I'm equally at home on location or in the post-production studio and with extensive experience in both arenas I bring a wealth of knowledge to any production, knowing what is needed to get the best result.
I believe deeply in collaboration and feel that any group effort works best when it's functioning collectively and cohesively.
My work has found me on almost every platform you can find sound in. I've recorded, sound designed, and mixed for film, television, online, radio, and podcast; I've even dabbled in VR and video games. Past clients include some of the world's biggest brands: Apple, Microsoft, Disney, Red Bull, and Coca-Cola. I have also worked with some of the biggest names in Australia, including Telstra, Optus, ANZ, AMP, CBA, Fox Sports, ABC, SBS, Channel 7, and Channel 10. In the film world I've worked on over 30 short films and seven feature films, which have screened in over 100 unique festivals across the world, picking up multiple awards along the way.
I love to travel and I'm lucky enough to have recorded sound around the world, including work in India, Nepal, Cambodia, right across the USA, England, Ireland, France, Germany, Spain, Italy, Greece, and Israel. Not to mention right across Australia, from frying in the scorching suns of Central Australia with Werner Herzog, to soaking in tropical rainforests in North Queensland, and wading waist-deep through the swamps and floodplains of the Macquarie Marshes in NSW, surrounded by red belly black snakes.
Mum loves to tell people about my first school report where the teacher wrote "Joseph has a calming effect on the class". I believe I've carried this trait right through to adulthood and bring a calm presence to any set or situation.
I'm a motivated and hard-working team member and I hope we can work together soon.
Joseph Dutaillis
Sound Recordist | Sound Designer | Sound Mixer

Qualifications and Certifications

Sound Related Pty Ltd
Owner and Director
Workers Comp. Insurance
iCare – 216589801
Public Liability Insurance
Marsh Advantage
$20million
Working With Children Check
Office of the Children's Guardian NSW Australia – (exp. 2024)
No: WWC0488155E
National Police Check
NSW Police Force
COVID-19 Vaccination
Pfizer – July 2021
Masters of Design Science (Audio and Acoustics)
University of Sydney NSW Australia – 2009
Graduated on the Deans' Lists of Excellence In Academic Performance
Advanced Diploma in Audio Engineering & Sound Production
JMC Academy NSW Australia – 2007
Graduated with a High Distinction
PADI International Open Water Diver Certification
PRO DIVE Coogee NSW Australia – 2014
Founding Member of Australian Sound Professionals (ASPinc.)
Member of Australian Screen Sound Guild (ASSG)
I have worked with Jo on a number of shoots. Each has had some unique audio requirements and each time Jo has known how to work with the environment to give me the best audio possible.
Jody Pachniuk
Director and Producer @ JPP
The quality of Jo's sound recording is second to none. His gear and ability are both top notch and we have never had anything but excellent audio from him. It also doesn't hurt that he's a lovely guy and a pleasure to work with.
Joel Hagen
Producer @ Acuity Productions
The team at 85 Productions have worked with Joseph on numerous occasions and each time he delivers. His professionalism on set and ability to undertake his job is second to none.
Simon Morehead
Director and Producer @ 85p
We love working with Jo! He's always on time, ready to roll, does so with minimum fuss and speaks up when there's a problem. He's also fair with fees, overages, and extras as long the requests aren't crazy. We throw him into the mix on all manner of jobs and environments and he knows how to make the best out of sometimes crappy audio locations. If he is free you should book him.
Dan Trotter
Founder of Ideosphere Media and Found at Sea Films
Jo is professional and super easy to work with. We love having him on set.
Olivia Olley
Producer @ Good Eye Deer
Jo is everything you want in a crew member. Technically proficient while being creative and collaborative. I would highly recommend him!
Graeme Robertson
Creative Director @ The Story of Us
Jo is my go-to sound guy. Very easy to work with and always brings the right gear and a good attitude on set.
Michael J. Herman
Director and Producer @ AdHoc Films
I have been working with Jo for over five years and with every year comes amazing growth in his ability to achieve the ultimate result. Not once have I been disappointed in his work and will hire him for any shoot.
Simon Morehead
Director and Producer @ Crater
I have worked with Jo on multiple projects from documentary series and TVCs to branded content. When Jo is on set I know we are getting the best location sound possible to take the accompanying images to the next level. I recommend Jo to everyone.
Bradley J. Conomy
Freelance Director of Photography @ Milk Truck Cinema
I've had the pleasure of working with Jo for many years across many different projects. His attention to detail is fantastic. Always my go-to man for sound.
Matthew Jenkin
Director, Writer and Producer @ Ninja Milk
Jo is a consummate professional, a quiet wolf, always thereabouts when you need him, and the delivered work is exemplary.
Steve Hopes and Janine Hosking
iKandy Films
Jo is a breeze to work with. A fully capable, fully professional fella. A no brainer!
Nathan Drabsch
Creative Director @ Kin Things
Jo has become my main go-to for every content shoot I produce. He's efficient and professional. A no-fuss team player!
Bella Harris
TV Producer @ DDB Sydney
Jo is fantastic. Always professional and a great problem solver. I definitely would recommend. His experience in post-production audio has come in handy on set with calling out possible issues that may arise latter in the post workflow, saved us a couple of bucks.
Jack Kemp
Director and Producer @ Optus
Location sound is too often neglected as an integral part of production. Jo has a great manner when working with new talent, who are often unnerved by the Soundie when they aren't friendly, professional, considerate, discrete and just ace at recording location sound. Jo is all of these things. Stop searching, just book him already!
Mark Dooley
Producer and Director @ Endemol Shine Australia
We work mostly in Melbourne but use Jo any time we shoot in Sydney and need specialised sound services. Great vibe and confident approach to production.
Derry Sheehan
Producer and Director @ Tooth & Claw
Working with Jo is always a great experience. He is highly dependable and does an excellent job.
Natalie van den Dungen
Freelance Writer and Director
Jo is a consummate professional who always delivers incredible sound and never comes to set without his terrific attitude.
Dave Burrowes
Director @ Acuity Productions